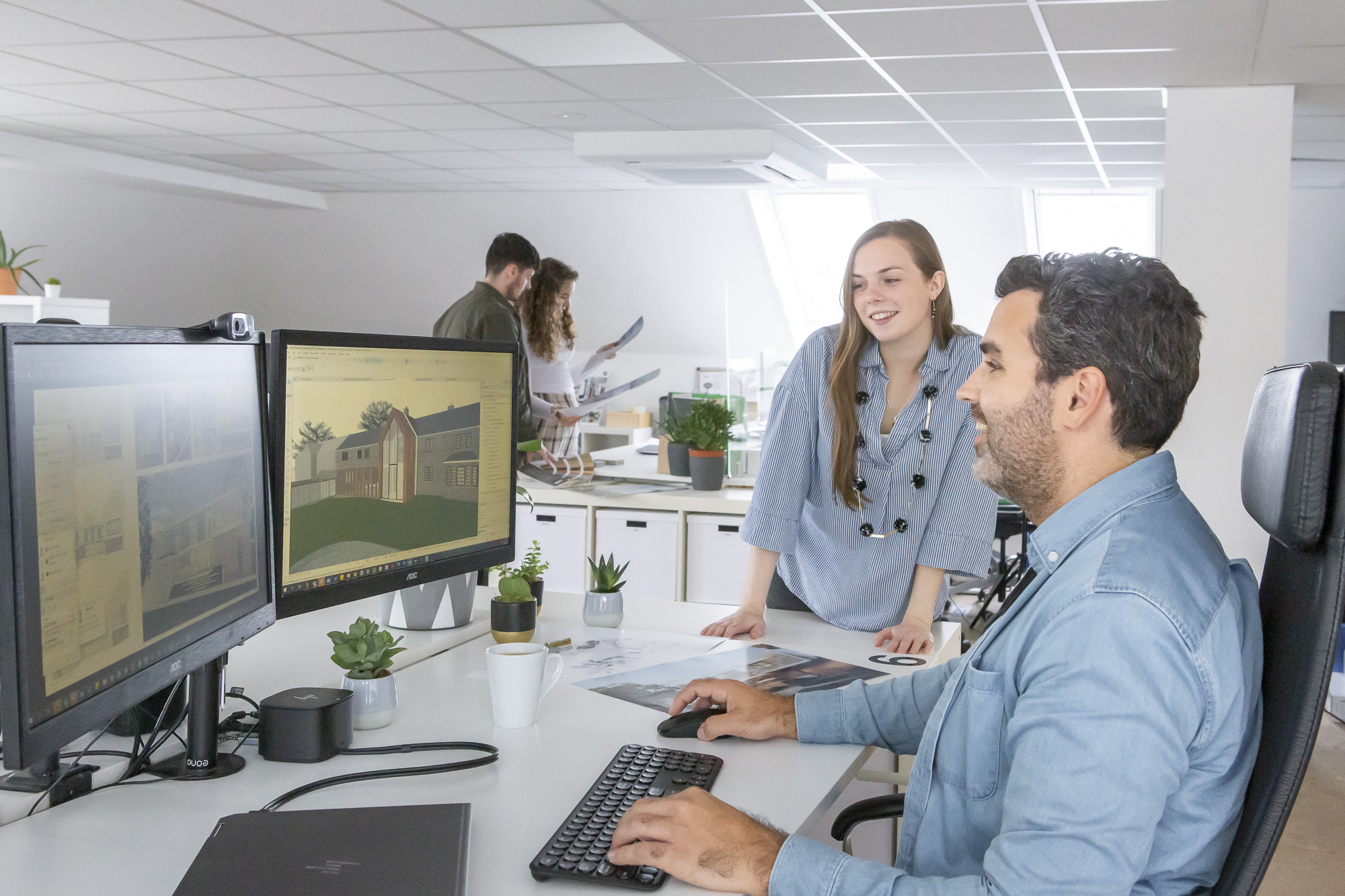 BIM Manager / BIM Coordinator
LOCATION: Flexible hybrid working between home and the Thame Studio.
SALARY: Dependent on Experience.
EMPLOYMENT: Contract to Full-Time
Job Purpose
HollandGreen is a unique architectural firm with an integrated practice model that incorporates architecture with interior design and landscape design, dedicated to a collaborative process that leads to meaningful spatial experiences and enduring design. Together with our sister company Anderson HollandGreen, we work collaboratively to deliver residential and commercial spaces while transforming the way we live and work across the UK and internationally.
As a key member of our fast expanding team your primary focus will be to work closely with the Head of Digital Design, Technology & BIM to continue the implementation of efficient BIM processes with the use or ArchiCAD, ensuring all the team are trained & supported, while making sure projects comply with the latest standards.
Along with working with the HollandGreen team on our high-end residential bespoke homes, the main aspect of your role will be working with AHG. The AHG team have more experience with Revit-led projects, so your role will include helping them transition smoothly to ArchiCAD, while expanding our established standards, workflows and templates to a commercial level to accommodate the size and complexity of large-scale projects.
Anderson HollandGreen – including hotels, office buildings, and mixed-use / multi-res – and train the designers to be comfortable with the established workflows.
HollandGreen projects range from bespoke contemporary new-builds through to sympathetic restoration of listed historic homes. Our design methodology is uniquely collaborative, with the client as the focus of the design process. We create bespoke, functional, sustainable and beautiful homes that are based on the methodical analysis and simulations of the unique way in which people wish to interact with the space around them.
Experience in sustainable / zero-carbon design buildings would be advantageous, as would experience of working with historic buildings.  All with the ultimate aim of creating exceptional designs that mark us out from the crowd while providing a seamless service that exceeds our Clients' expectations.
Personal Qualities
Positive working attitude with strong communication skills and the ability to work collaboratively and support other members of staff.
Robust and resilient – enjoy open and direct feedback.
Clear and concise communication skills and ability to maintain excellent client relationships.
Ability to prioritise workflow, be self-motivated and very organised.
Commercially aware and able to manage project resources.
Role Requirements // Key Responsibilities
Through having a very thorough knowledge and relevant extensive experience in ArchiCAD and BIM Workflows, either in practice or by being a certified ArchiCAD BIM Manager, to act as the ArchiCAD expert within the office, to manage ArchiCAD systems and oversee the production of 3d models and 2d documentation along with the BIM Studio Team.
To support the continued implementation of ArchiCAD software, protocols, libraries and templates across both practices. Main focus beginning with developing relevant template structure for AHG Team.
Championing the use of ArchiCAD, proactively assessing opportunities to improve workflows within ArchiCAD and ensuring information is shared effectively across the office through training sessions.
Evaluate new BIM related software and technologies. Stay informed on other BIM related software and how they work with ArchiCAD.
Strengthening the teams' relationship between architecture and technology, making sure the company's technology strategy serves its business strategy
Structuring the BIM processes and management. Technical implementation of new workflows to increase efficiency and best practice procedures with a proven track record of supporting project delivery with the people skills and confidence necessary to implement change and ensure adherence to new standards. Developing protocols and standards and building / maintaining libraries of attributes, favourites, translators and 2d details to aid efficiency and consistency.
Have an in-depth knowledge of the Graphisoft product portfolio including ARCHICAD, BIMcloud, and BIMx. License & User Management.
BIM HealthCheck / Quality Assurance: Ensuring a seamless and consistent workflow by auditing the design workflows from Feasibility to Construction documentation to create more efficient and time-saving workflows, while enabling a platform suitable for collaborative working on all projects.
Ensuring ArchiCAD models are set up correctly from the outset of a project and helping teams to complete and maintain BIM Execution Plans. (BIM Audits/project reviews). Reviewing all models to ensure adherence to standards and agreed modelling techniques. Holding regular reviews with project teams to ensure responsibilities, required deliverables and level of development is clear.
Identify project specific training requirements and knowledge gaps. HG & AHG ArchiCAD Workflow training through 1-1 sessions, group sessions, lunch n' learns, whether in person or over Zoom
Acting as the first point of call for queries and troubleshooting solutions to problems encountered. Administer technology support related to the BIM environment and affected systems.
Determining the annual budget for BIM technologies together with the management team based on the firm's business objectives and implementing a plan that meets the requirements according to the forecasted financial expenditure
Wiki and HG Academy – Establishing and maintaining best-practice training guides on an in-house knowledge-base depository
Working with directors, associates and BIM Lead to put together documentation / graphic representation in line with HG & AHG branding. Ensuring the graphic and drawing annotation style is brought through all production information and drawings.
Consulting and assisting with the production of drawings and detailing when needed.
BIM Coordination. Liaising with clients and external team members, along with members of all our companies, to define BIM deliverables and facilitate collaborative working. Establishing workflows with the Surveyors, Engineers & Contractors/sub-contractors for coordination of models from the start of the project. Experience of working with federated models and clash detection software
Develop and manage internal and external project collaboration protocols for data exchange between ARCHICAD, Rhino, Sketchup, Revit and Autocad
Developing and updating object libraries, including creating new objects using GDL would be beneficial, but not required.
In return we will offer:
A friendly and supportive working environment, based mainly at home- but with the option of working in our Thame Studio as and when needed.
Flexible approach to HR, with trust-based flexible working hours driven by allocated tasks & milestones. This is delivered by self-imposed priorities and disciplined time management by individuals.
Company Bonus Scheme – paid twice yearly
CPD's, in-house training and contribution to personal training and development
Opportunity for role development
Company pension
Employee assistance programme and other well-being benefits
Interested? Get in touch
If you believe you are the right person to join us, please email a copy of your CV with key projects & images  and/or  your online CV/Portfolio to  careers@hollandgreen.co.uk
Tell us about yourself, your recent job experiences, your education and why you would be a good fit for HollandGreen.
Please get in touch directly, as we will not be accepting recruitment agency calls/emails. Thank you